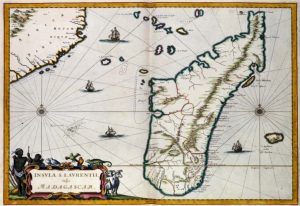 For all of the lore surrounding history's legendary pirates, not much is known about their lives on land. According to the same book that first introduced the world to pirate mythology, a chance encounter at sea led to the establishment of a democratic pirate republic in a hidden cove off the Madagascar coast. When a team of pirate captains pulled off the biggest heist in the golden age of piracy, it was said that they took refuge here. To this day, the treasure of the Gunsway Heist and the pirate hideaway of Libertalia has never been found.
Music by Derek Fiechter. Sample from Iggy Azalea's "Fancy."
Research shout-out to Henry Louis Gates Jr.
Podcast: Play in new window | Download
Subscribe: Google Podcasts | RSS | More