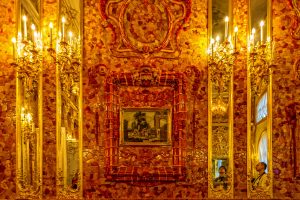 The Amber Room was considered the eighth wonder of the world, and a symbol of peace between two of Europe's most powerful nations. A priceless chamber of wall-to-wall amber mosaics, furniture, and ornaments, it adorned a Russian palace for 300 years until it was stolen by the Nazis. Is it still out there, waiting to be uncovered?
Patreon.com/Relic
Twitter: @losttreasurepod
Music from Musopen and Incompetech. Attributions are as follows:
Egmont Overture Kevin MacLeod (incompetech.com)
Licensed under Creative Commons: By Attribution 3.0
http://creativecommons.org/licenses/by/3.0/
Note: This is a 2019 re-recording of the pilot episode from 2017. The original file can be found, for free download, on the Relic Patreon.
Podcast: Play in new window | Download
Subscribe: Google Podcasts | RSS | More