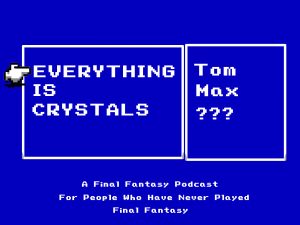 While Relic takes some well-deserved time off, my friend Tom and I are producing an "off season" humor podcast on one of our favorite video game series. You can listen to part 1 of our pilot episode here, and be sure to check out (and subscribe) to the official channel on iTunes: "Everything is Crystals", for part 2!
https://everythingiscrystals.podbean.com/
Every episode, Tom and I regale a guest with an story from the most ironically titled video game franchise of all time.
We choose 1 game from the series, 1 new guest, and 1 thematic cocktail. Then hilarity ensues! Whether you're into gaming, anime, sci-fi, or just bad fantasy lit, there is a crystal for everybody!
Our first episodes delves into the history of the humble Tokyo power company that would go on to create one of the world's best selling–and sequel-spanning–video games of all time. We also discuss the production of the O.G. Final Fantasy, and set the stage for a tale of silent protagonists, dark knights, and crystals galore. All the while, I force my co-host and guest to drink aggressive shots of various liquors. Good times all around.
Outro Music: BossaBossa by Kevin MacLeod (incompetech.com)
Licensed under Creative Commons: By Attribution 3.0
http://creativecommons.org/licenses/by/3.0/
Podcast: Play in new window | Download
Subscribe: Google Podcasts | RSS | More